Heavy rain or snow for upcoming weekend...?
A complex forecast is setting up for the latter half of the weekend as several latest guidance runs indicate a deepening low pressure along a stalled frontal boundary. The location of this boundary will be key to impacts towards the eastern seaboard.

"Afternoon Thoughts" (Updated 4/19)
New York Times-One of the Top 10 Books of 2006, The Omnivores Dilemma by Michael Pollan, paints an eerie image at the ever-so-ignorant American public towards the food industry.

"But perhaps the most alarming ingredient in a Chicken McNugget is tertiary butylhydroquinone, or TBHQ, an antioxidant derived from petroleum that is either sprayed directly on the nugget or the inside of the box it comes in to "help preserve freshness." According to A Consumer's Dictionary of Food Additives, TBHQ is a form of butane (i.e. lighter fluid) the FDA allows processors to use sparingly in our food: It can comprise no more than 0.02 percent of the oil in a nugget. Which is probably just as well, considering that ingesting a single gram of TBHQ can cause "nausea, vomiting, ringing in the ears, delirium, a sense of suffocation, and collapse." Ingesting five grams of TBHQ can kill." -Michael Pollan's The Omnivore's Dilemma

Now that I have your attention, it is important to note that the food industry is a myriad of arguements, many of which are impossible to tackle in a short blurb. Therefore I want to focus on one key aspect of Michael Pollan's book: the concept of the origins of our food. As many people are now setting down to dinner or in reality zipping through the drive thru like the majority of Americans, one look at our food will tell us nothing about where it was grown or how it was produced. Those 'grill mark seasonings' labeled on the ingredients are most likely highly potent chemicals produced one of the chemical factors in eastern New Jersey and therefore that supposed grilled burger has probably never seen the light of day on a grill.

Most people shrug their shoulders and respond, "I eat what tastes good." This is the culprit of the problem. (Us) Americans eat way too much of these 'foods that taste good.' Food is ingested into our body; it is not like clothing where it simply weighs on our exterior skin. Food impacts are cultural and universal. We must eat to survive. Despite these points, the food industry shows few signs of reformation. But there is a bright side to it all... A renewed interest in food is growing evidenced by the organic movement (which yes has many big business and factor farm flaws itself).

And thanks to periodicals written by Eric Schlosser, Marion Nestle, Michael Pollan, and others increasing numbers of the general public are now being exposed to the horrors of the foods we consume every day. Thanks to corn/soy subsidies, illegal immigrants/low wages, and a plethora of other factors there is a reason that one can enter a fast food establishment and purchase a 99cent burger.

And I will leave you with another quote by Michael Pollan's The Omnivore's Dilemma...

"Imagine if we had a food system that actually produced wholesome food. Imagine if it produced that food in a way that restored the land. Imagine if we could eat every meal knowing these few simple things: What it is we're eating. Where it came from. How it found its way to our table. And what it really cost. If that was the reality, then every meal would have the potential to be a perfect meal. We would not need to go hunting for our connection to our food and the web of life that produces it. We would no longer need any reminding that we eat by the grace of nature, not industry, and that what we're eating is never anything more or less than the body of the world. I don't want to have to forage every meal. Most people don't want to learn to garden or hunt. But we can change the way we make and get our food so that it becomes food again—something that feeds our bodies and our souls. Imagine it: Every meal would connect us to the joy of living and the wonder of nature. Every meal would be like saying grace."
"Regional Radar"


(Courtesy of NOAA)

"Regional Satellite"


(Courtesy of Penn State Meteo.)

"Regional Advisories"


(Courtesy of NOAA)

"Weekly Forecast" (Updated 4/19)
Friday- A developing surface low to the west will allow H85s to continue to range near +2SD. This will continue to allow for milder 2m temperatures up and down the northeast with high temperatures easily reaching the 70s for many locations. Low 80s are possibly for southern areas towards the Delmarva and Washington DC. Skies will generally be partly cloudy, but some advancing cirro-stratus from the west will begin to move into the area by afternoon. While winds will generally be light, low fuel values will once again allow for a slight fire risk for many areas of the northeast particularily across New England where lower dew point values will dominate. By Friday night a weak 1004mb low will begin to shift across western New York along a strong cold front. Light rain showers associated with mild warm air advection will allow for QPF totals in the 0.01-0.10in range Friday night mainly across western and northern areas that are closer to the front. Lows will be mild and will not drop below 40F for all areas and may stay in the 50s south of I-80.

Saturday- The cold front will begin to move across the Northeast. Timing will be crucial for the coverage of precipitation as it may be convective in nature. See the severe weather discussion below for more details. NAM/GFS/ECMWF guidance generally agrees for QPF totals around 0.25in for most areas, although locally higher amounts are possible in areas that see thunderstorms. High temperatures will be dependent on the timing of the front as H85 thermals ahead of the front will be around +11C allowing for a mild southwesterly flow. Therefore eastern areas will likely reach into the mid 70s particularily from eastern Pennsylvania on eastward with areas to the west struggling to reach 55F. Skies will be generally mostly cloudy to cloudy given the dirty warm sector with a slight easterly flow at the surface. The front will push east of the Atlantic coast by evening with rain showers coming to an end for most areas. This rainfall will not be enough to help many areas that are currently being effected by short term drought conditions. Lows will drop back into the 30s and 40s as much colder air pushes into the region

Sunday-Tuesday- This period has a higher than normal uncertainty given the range of spread in the latest GEFS and OP ECMWF. The cold front will eventually stall off the coast, but the exact position of where this will occur is quite uncertain. The GFS/NAM and associated ensembles generally favor a track farther to the east given the kicker shortwave (alberta clipper over the Great Lakes) quickly advancing southeast. This will generally allow the surface low to deepen well to the east only affecting areas along the Gulf of Maine. Meanwhile this keeps the Northeast in generally calm weather under the influence of an anomalous trough.

The weather pattern has definitely shifted in comparison to the mean for the past two weeks. Ridging and increasing upper level heights have now shifted to the western United States where temperatures will soar to near records highs particularly across the dessert southwest. Meanwhile a deep trough over the east will keep cooler temperatures and slightly unsettled conditions under a northwest influence.

In response to positioning the stalled front farther west, the global models show a much more anomalous solution progging the low to deepen slightly inland of New Jersey with an intensifying baroclinic zone. A sharp low level jet will funnel an axis of anomalous PWATs up the coast in an area of associated heavy QPF. The 96hr OP ECMWF positions a 992mb deepening low right around Cape May, NJ setting the stage for a powerful nor'easter. Rapidly falling heights under a confluent flow would allow H85s to fall well below 0C to near -6 or -7C with 2m temperatures in the 30s for many areas. Therefore this setup verbatim would likely produce a wet snow event for elevations at or above 1000ft particularily for the Appalachians and up through western New York. Current QPF maxes are around 1-2in for most areas, but given the jet streak positioned over New Jersey up through southern New England, parameters indicate a narrow axis of training heavy rain likely in this region with probably 3in QPF. As if that was not impressive enough, the ECMWF continues to the run to cut-off the low and shift it back over Ontario/Quebec with continued unsettled weather through mid week.

Clearly there are dramatic differences in the solutions posed for late weekend and early next weekend. Given seasonal roll-over methods, the trend towards the GFS flat solution seems more likely. This is also supported by relatively minimal forcing from teleconnections with no -NAO support. The jet has remained relatively flat over the past few months with little room for amplification. Also the ECMWF and GGEM have performed very poorly in the latest verification charts in comparison to the GFS and GEFS. None the less I cannot rule out a more amplified solution, but it would certainly go against the pattern.

Depending on the outcome of the track for the progged surface low will determine the conditions for the rest of the week. Temperatures will likely be below normal through the majority of the week under a northwest flow off the lakes. Therefore mostly cloudy skies are likely west of the fall line with downsloping to the east. There will likely be several opportunities for frost/freeze conditions for areas as far south as Maryland next week so please plan accordingly. The trough will begin to lift out of the region by late week.

"Current Surface Map and Weekly History of Jet Stream Position"


(Courtesy of Weather Underground)

"Wildfire Outlook" (Updated 4/19)
Conditions remain quite dry across much of the Northeast and are nearing near/short term drought conditions for many locations. This has been heightened by the anomalously low snow packs even up through southern Canada so water levels on local streams and rivers are running quite low. Total QPF for the next seven days will be dependent on the track of the surface low early next week. Should it take a similar, unamplified track as the GFS suggests QPF totals will only be at or below 0.25in for the next week and will occur on Saturday. This will not help most areas restore ground water levels. It is critical that the synoptic flow produces the heavy QPF event as suggested by the ECMWF to help prevent worsened drought conditions.

A low to moderate threat of heightened forest fire conditions will exist on Friday. Dew points will remain relatively low along with mild temperatures. The southwest flow though will remain relatively light so the enhanced threat of any fire spreading by increased winds is low. None the less it is advised to avoid outdoor burning and take care if utilizing outdoor resources.

Looking ahead to next week will give way to several sunny days with low dew points. If the beneficial rain is not received, a hightened fire risk will occur mid and late week.

The overall pattern continues to favor dry conditions over the long range forecast. Current CFS predictions include drier than normal rainfall through the early part of summer. I am quite concerned about this threat and closely monitoring the situation. Any rainfall will be helpful. None the lass there are few if any factors showing severe drought parameters possible so therefore no one should be getting overly concerned at this point in time.

Here is a link to the criteria for fire development... Link.

Criteria for rapid initiation and spread of wildfires:

1. Winds must be sustained at 15 mph (13 knots) for two hours or more, and

2. Minimum Relative Humidities (which usually occur in the afternoon) must be 30 percent or less, and

3. 10-hour Fuel Moistures must be 15 percent or less (and expected to remain there for two or more days).

"Fire Outlooks from Storm Prediction Center Days 1, 2, and 3"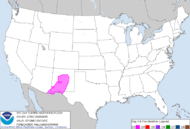 (Courtesy of NOAA)

"Gardening Outlook" (Updated 4/19)
As mentioned above, dry conditions are prevailing across much of the Northeast. Groundwater levels are running very low and several stream and river flows are actually running near record lows. This is mainly do part to the record low snow levels this winter. Ground water conditions differ greatly here in the east than in the western United States. Our soil condition is greatly affected by short term changes in the weather pattern. This is evident by the dramatic swing from one of the wettest years on record to a few weeks of dry weather causing already immediate problems.

QPF totals for the next seven days will be around 0.25in or so on Saturday for all areas in the Northeast. Any additional QPF will be associated with the deepening low early next week, but the track remains uncertain. Therefore while it may sound silly the QPF range for that period could be anything from partly cloudy skies to 2.0in of rain (possibly snow in the higher elevations?).

Conditions for frost and freeze will be likely mid and late week given high pressure over the area and low dew points favoring ideal radiational cooling. Lows will drop below freezing possibly as far south as central Maryland. Tuesday and Wednesday nights will have the highest threat for the colder temperatures. It is likely frost and freeze NWS products will be necessary next week so plan accordingly.

While still away up at school, I have seen pictures of my garden at home and everything seems to be coming along fairly necessary. My soil in the raised beds is begining to become a bit degraded and infertile especially in the original two boxes. Therefore it was necessary for the addition of a fairly potent humus and manure mixture along with an organic fertilizer. Crops in these beds appear to be growing nicely to date. At this point I am currently growing broccoli, peas, radishes, romaine lettuce, spring onions, and parsley. For this following my fruit bushes saga, my blueberry and pink lemonade berry bushes still appear to not be growing with any new additional growth. I have lowered the pH of the soil down around 4.5 with some pine needles; but I still do not have any idea what may have killed them off.

"Soil Moisture Anomalies and 5-day Precipitation Amounts from Hydro Prediction Center"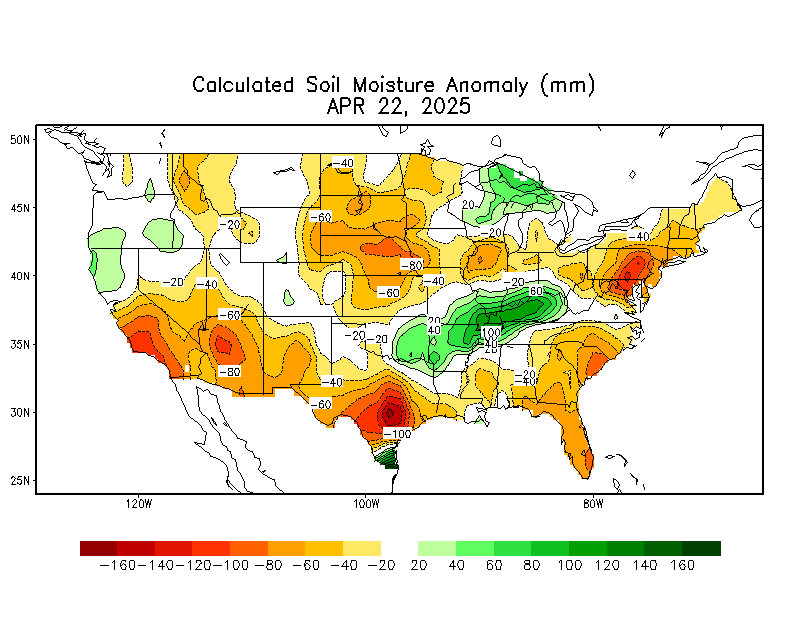 (Courtesy of NOAA)

"Severe Weather Outlook" (Updated 4/19)
A dirty warm sector and approaching strong cold front will move across the Northeast on Saturday. Timing looks favorable for a early to mid afternoon passage for central Maryland up through southern Pennsylvania. These areas will have the highest threat of convective chances along with places further east. SBCAPE values are progged to remain sub 500j/kg and wind shear looks relatively minimal at sub 30 knots 0-6km. Also higher resolution guidance indicates conditions will generally be overcast for many areas so any surface instability that does develop will be confined to isolated regions. None the less given the steep lapse rates and additional lift a very low risk of a strong thunderstorm is possible. PWATs near 2.0in may allow for briefly intense rain rates.

Over the next seven day period the threat of severe weather is nonexistent across the Northeast and for the most part quiet across the entire nation with little moisture and a progressie flow. Also +3SD upper level heights over the midwest and western United States will cap off any isolated diurnal pulse thundestorm development.

"Severe Weather Outlooks from Storm Prediction Center Days 1, 2, and 3"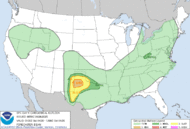 (Courtesy of NOAA)

"Monthly Outlook" (April)
Long term peristence argues for once again mild temperature anomalies for much of the Northeast. But the warmth will be subdued for monthly averages courtesy of a likely cold period for the first two or so weeks of April. The current teleconnection pattern suggests a chance of a west-based -NAO allowing likely a weak trough to form over the east. This will likely result in several backdoor cold fronts with the coldest anomalies for those farthest north. The AO is also forecast to approach neutral or negative values suggesting that colder air will become more available to parts of North America in the coming two weeks. This also corresponds will the predicted Madden Jullian Oscillation phase changes. Recent NAEFS output also indicates cooler temperatures for the east coast. Overall roll-over techniques highlight that this will likely be short-lived with warmer temperatures headed back towards the region for the second half of April. Therefore the month will not feature a below normal departure for temperatures.

Temperatures- Anomalies ranging from (+)1.0-(+)2.5 for most all climatological reporting sites in the Northeast. Cooler temperatures will prevail earlier in the month with milder air for the second half likely giving way to a well above normal temperature pattern as we approach May.

Precipitation- Precipitation will likely be average below normal for stations across the Northeast fueled by a continued inactive jet and progressive pattern. Long term ensemble output indicates drier conditions persisting through the early summer.

"Temperature and Precipitation Outlooks from Climate Prediction Center for next 30 days"


(Courtesy of NOAA)

Lower Susquehanna Valley Doppler...


(Courtesy of WGAL)

Follow my 24hr forecasts on Twitter... Link and Facebook... Link.

"Linglestown, PA 2012 statistics"
(Severe Weather Stats...)
Severe Thunderstorm Watches- 0
Severe Thunderstorm Warnings- 0
Tornado Watches- 0
Tornado Warnings- 0
Total Thunderstorms- 3

(Precipitation Stats...)
Flash Flood/Flood Watches- 0
Flood Warnings- 0
Flash Flood Warnings- 0

(Temperature Stats...)
Heat Advisories- 0
Excessive Heat Warnings- 0
90degree days- 0
Highest Temperature- 89F
The views of the author are his/her own and do not necessarily represent the position of The Weather Company or its parent, IBM.
Reader Comments
The Northeast Weather Blog...
Previous Entries for 2017